CALOSURE AMERICA + ENHANCE IMMUNITY AND CARDIOVASCULAR HEALTH(1)
APPROPRIATE DIETARY SUPPLEMENTS FOR PEOPLE WITH DIABETES
Immunosenescence/ immune dysfuction, high risk of cardiovascular disease, and an impaired musculoskeletal system as a result of aging are substantial risk factors for those who have underlying medical diseases such as diabetes. Choosing proper diets for individuals with diabetes is important not only for blood glucose levelcontrol but also for boosting health and maintaining a healthy body.
Science nutrition Calosure America + is appropriate as a daily supplement for persons with diabetes and pre-diabetes. The product contains a premium low glycaemic index sugar to assist manage blood glucose level after meal, as well as 24h ColosIgG Colostrum imported from the US to help Build immunity and an excellent nutritional system to help Strengthen cardiovascular health, systemic health protection.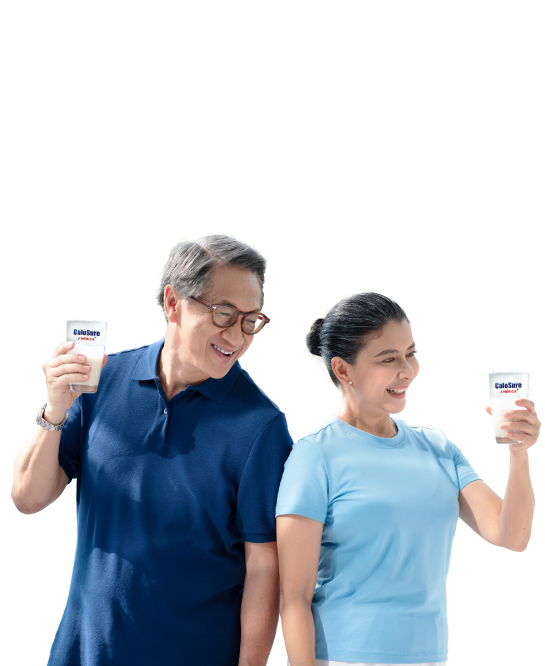 Benefit From Calosure America+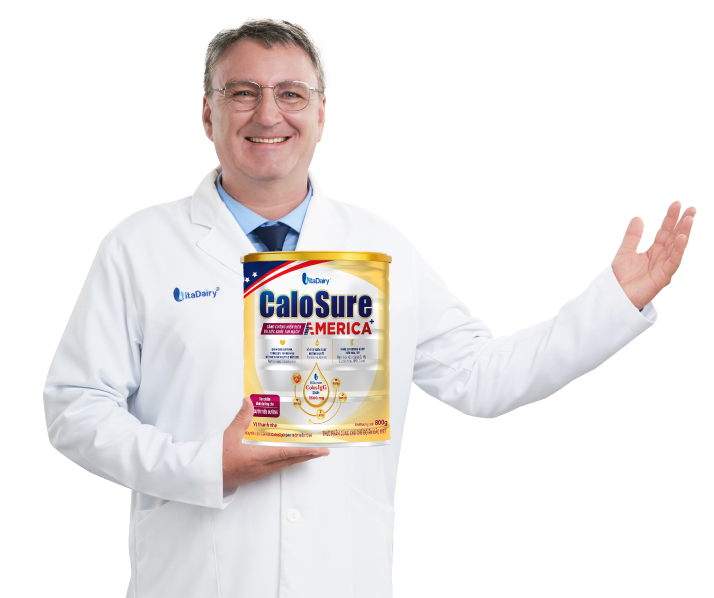 Stabilize Blood Glucose
Calosure America+ (diabetes) delivers a balanced, nutritious diet by utilizing premium icing sugar Isomalt, Palatinose (Isomaltulose), and Fructose - low glycemic index carbohydrates which is slowly and steadily absorbed, aids in blood glucose level stabilization after administration, and is a popular choice for diabetics.

Improve Cardiovascular Health
The combination action of Plant Sterol Esters to help lower harmful blood lipids and nattokinase to destroy blood clots, promote blood circulation, and maintain the cardiovascular system healthy will help keep the cardiovascular system and minimize the risk of stroke. The combination of Omega-3, Omega-6, MUFAs, and PUFAs from sunflower seed oil and flaxseed oil contributes to a balanced diet that helps avoid cardiovascular disease and improve health.

Improve Immunity
24h Colos IgG Colostrum (3500 mg) imported from the US helps supply a substantial number of IgG immune antibodies (500 mg) - an inherent component of the immune system - as well as a combination of Zinc, Selenium, and Vitamin C to support the improvement of the immune system, resistance, fatigue, and health recovery.
Protect Musculoskeletal System
The perfect combination of 3 nutrients: HMB - aids in the preservation of muscle mass; Calcium - aids in bone strength; Glucosamine - a component present in cartilage tissue and joint fluid that aids in joint flexibility; Calosure America contributes to the long-term health of the musculoskeletal system by strengthening and protecting it holistically.

Support Digestive System
Rich in readily digested plant protein, mixed with probiotics Bifidus and soluble fiber FOS/Inulin to help relax the intestinal tract, promote nutritional absorption, reduce digestive issues, and avoid constipation.
Thành phần dinh dưỡng

Calosure America +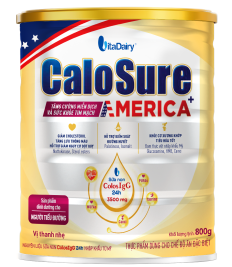 Average composition
In 100g of flour
In one cup
Unit
Linoleic Acid (Omega 6)

2390

1099

mg

α-Linolenic Acid (Omega 3)

450

207

mg

Dietary Fiber (FOS/Inulin)

3.5

1.61

g

(From ColosIgG 24h)

3500

1610

mg

Glucosamine sulphate

200

92

mg

Bidobacterium

10⁸(*)

4.6x10⁷(*)

mg

Pantothenic Acid

3000

1380

µg
Phần 3