Healthy Immunity - Good Digestion
Children in the stage of "immune gap", the incomplete immune system lacks antibodies to fight against pathogenic factors from bacteria and viruses that make them sick, especially susceptible to digestive infections and Respiratory. ColosBaby Bio Gold - A breakthrough new nutritional formula of VitaDairy, with ColosIgG 24h colostrum imported exclusively from the US, combining 2'FL HMO, Bifidobacterium probiotics, and many high quality nutrients to give children a source of nutrition. Preeminent nutrition, helping children to have healthy immunity, good digestion and outstanding development both physically and intellectually in the first years of life.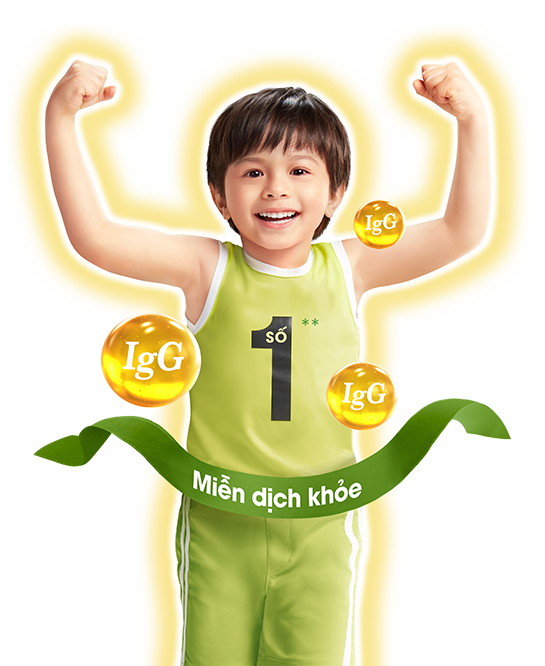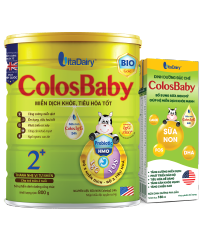 Benefits from ColosBaby Bio Gold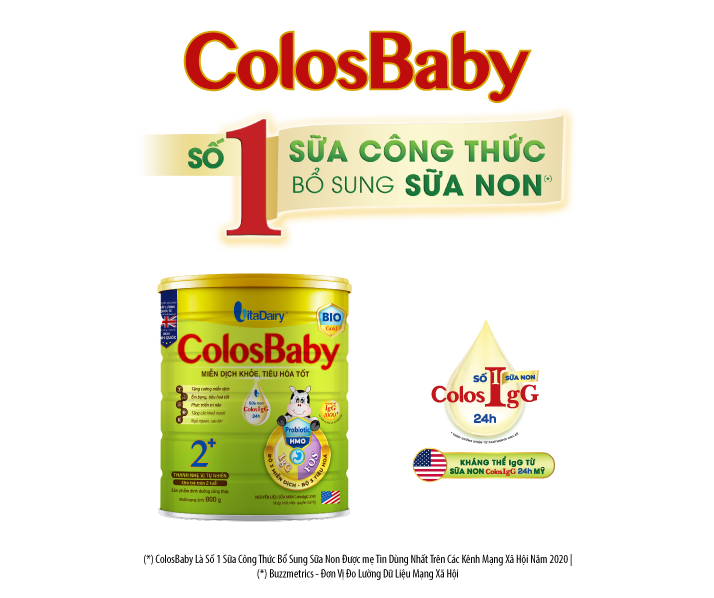 Immune Booster
The Immune Trio includes natural IgG antibodies from ColosIgG 24h ColosIgG, 2FL HMO and Bifidobacterium probiotics added in ColosBaby Bio Gold to help protect the baby effectively. Specifically: High-level 1000mg IgG antibody with the ability to directly destroy bacteria, viruses, helping to strengthen the immune system inside the body. Natural oligosaccharide 2'FL HMO - Prebiotics helps nourish and promote the development of the intestinal probiotic system, inhibiting harmful bacteria in the intestinal tract and regulating the body's immunity. Bifidobacterium - Probiotics are probiotics that continue to help balance the intestinal microflora, creating a barrier to the pathogenic bacteria. With a special immune set of ColosBaby Bio Gold, baby has strong immunity, is the foundation for healthy development.

Stomach, Good Digestion
The digestive trio of 2'FL HMO, Bifidobacterium probiotics and the FOS / Inulin soluble fiber system play a role in protecting and supporting effective digestive function. The digestive tract is stable, the beneficial bacteria in the intestine are balanced to help the baby digest and absorb well the nutrition, the body is comfortable and not constipated.
Brain development
DHA supplementation from algae, Choline, and Taurine are important nutrients for the perfection and development of the brain, eyesight to help children be smart, increase cognition and learning ability.

Healthy Weight Gain
Proper nutrition, adequate supply of Protein, Fat, Vitamins and Minerals necessary for the development of structure and function of the body to help children gain healthy weight.

Sleep Well, Tall Big
Lactium is a special nutrient of the milk casein hydrolysis process to help bring comfort, relaxation and natural sleep, good sleep for your baby. Calcium, Phosphorus, Magnesium with optimal content and ratio, Vitamin D3 supports the efficient absorption of calcium to help build strong bones and develop outstanding height.
Nutritional ingredients

ColosBaby Bio Gold 2+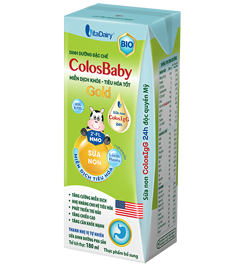 Average composition
In 100g of flour
In one cup
Unit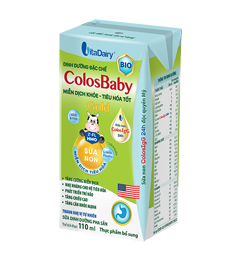 Average composition
In 100g of flour
In one cup
Unit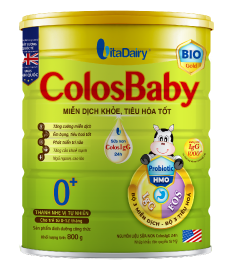 Average composition
In 100g of flour
In one cup
Unit
Axit Pantothenic

4024

555.3

µg

Bifidobacterium

109 (*)

13.8x107 (*)

cfu

Axit Linoleic (Omega 6)

1698

234.3

mg

Axit α-Linolenic (Omega 3)

317

43.75

mg

Sữa non ColosIgG 24h

7000

966

mg

Chất xơ hòa tan (FOS/Inulin)

2.5

0.35

g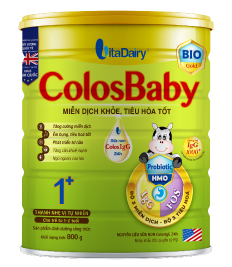 Average composition
In 100g of flour
In one cup
Unit
Axit Linoleic (Omega 6)

1547

657.5

mg

Axit α-Linolenic (Omega 3)

304

129.2

mg

Sữa non ColosIgG 24h

7000

2975

mg

Chất xơ hòa tan (FOS/Inulin)

3.3

1.4

g

Axit Pantothenic

3749

1593

µg

Bifidobacterium

109 (*)

42.5x107 (*)

cfu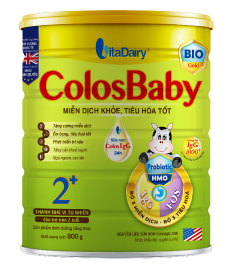 Average composition
In 100g of flour
In one cup
Unit
Axit Linoleic (Omega 6)

1545

656.6

mg

Axit α-Linolenic (Omega 3)

304

129.2

mg

Sữa non ColosIgG 24h

7000

2975

mg

Chất xơ hòa tan (FOS/Inulin)

3.3

1.4

g

Axit Pantothenic

3983

1693

µg

Bifidobacterium

109 (*)

42.5x107 (*)

cfu
Variants and packaging specifications
ColosBaby includes the following packaging types:
Milk Powder
Tin 400 g
Tin 800 g