Oggi - Outstanding growth
Nutrition is one of the most important factors that determine a child's development as a fetus and newborn. A child's diet should be enhanced with vitamins and minerals necessary for the skeletal system development.
Oggi nutrition products are the most nutritious choice for height growth, healthy weight gain, visual brain development, prevention of constipation, boosting immunity and overal development.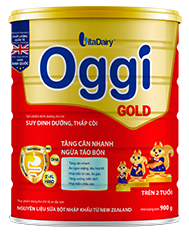 Benefits From Oggi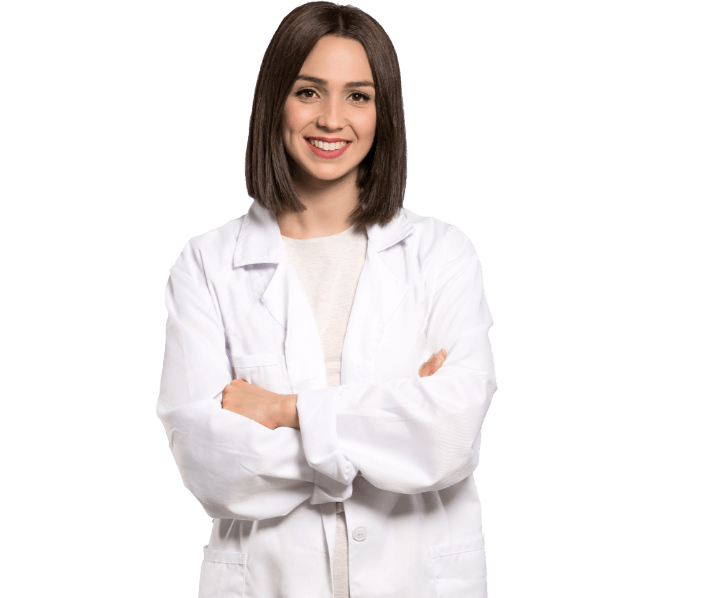 Boost immunity
Supplementing Colostrum, Selenium, and Zinc: Helps increase resistance, strengthens the immune system, protects your child against disease-causing factors, ensuring she stays healthy and avoids the risk of common infections.

Support brain development
DHA and Choline: These essential nutrients help perfect brain structure and the nervous system's function. Vitamin A: Helps bright eyes and is especially important for retinal development in low birth weight and preterm infants.

Good for the digestive system, prevent constipation
Soluble fiber FOS: Prebiotics play a role in the growth of the intestinal bacteria, helping to stabilise digestion and prevent constipation in children.

Help grow taller
Calcium, Magnesium, and Phosphorus: Participate in forming bone structure for a strong bone system. Vitamin D3: Helps increase absorption and use of Calcium to develop body length, helping children grow taller.

Eat well, sleep well
Vitamin Bs: help the body's metabolism processes, help children eat, sleep and develop well.
Nutritional ingredients

Oggi 2+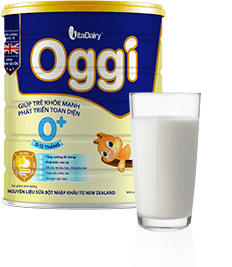 Average composition
In 100g of flour
In one cup
Unit
Năng lượng/Energy

437.8

84.93

kcal

Sữa non/Colostrum

100

19.4

mg

Chất xơ hòa tan/Dietary Fiber (FOS)

1000

194

mg

Photpho/Phosphorus

324

62.86

mg

Mangan/Manganese

22.5

4.37

µg

Axit Pantothenic/Pantothenic Acid

1560

302.6

µg

Axit Folic/Folic Acid

50

9.7

µg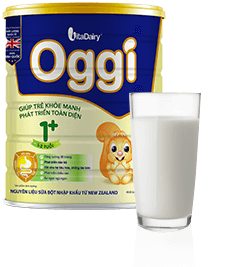 Average composition
In 100g of flour
In one cup
Unit
Axit Pantothenic/Pantothenic Acid

1670

751.5

µg

Axit Folic/Folic Acid

55

24.75

µg

Năng lượng/Energy

434.4

195.5

kcal

Chất xơ hòa tan/Dietary Fiber (FOS)

500

225

mg

Photpho/Phosphorus

323

145.4

mg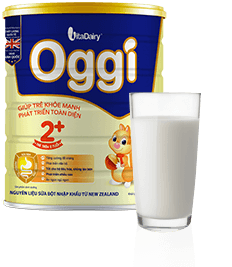 Average composition
In 100g of flour
In one cup
Unit
Năng lượng/Energy

437.2

203.3

kcal

Sữa non/Colostrum

60

27.9

mg

Chất xơ hòa tan/Dietary Fiber (FOS)

500

232.5

mg

Photpho/Phosphorus

324

150.7

mg

Mangan/Manganese

27

12.56

µg

Axit Pantothenic/Pantothenic Acid

1760

818.4

µg

Axit Folic/Folic Acid

60

27.9

µg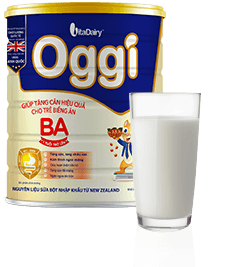 Average composition
In 100g of flour
In one cup
Unit
Năng lượng/Energy

442

228

kcal

Chất xơ hòa tan/Dietary Fiber (FOS)

500

258

mg

Photpho/Phosphorus

336

173.4

mg

Mangan/Manganese

20

10.32

µg

Axit Pantothenic/Pantothenic Acid

2000

1032

µg

Axit Folic/Folic Acid

75

38.7

µg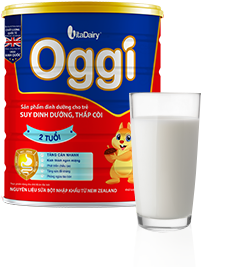 Average composition
In 100g of flour
In one cup
Unit
Năng lượng/Energy

444.2

264.3

kcal

Chất xơ hòa tan/Dietary Fiber (FOS)

500

297.5

mg

Photpho/Phosphorus

396

235.6

mg

Magie/Magnesium

51.4

30.58

mg

Axit Pantothenic/Pantothenic Acid

2000

1190

µg

Axit Folic/Folic Acid

75.3

44.8

µg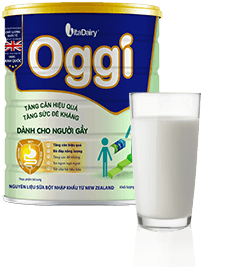 Average composition
In 100g of flour
In one cup
Unit
Năng lượng/Energy

442

247

kcal

Chất xơ hòa tan/Dietary fiber (FOS/ Inulin)

500

279

mg

Photpho/Phosphorus

308

171.9

mg

Mangan/Manganese

18

10.04

µg

Axit Pantothenic/Pantothenic Acid

1670

931.9

µg

Axit Folic/Folic Acid

60

33.48

µg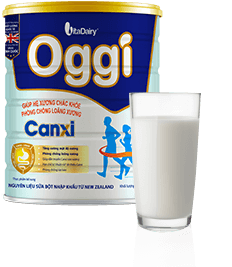 Average composition
In 100g of flour
In one cup
Unit
Năng lượng/Energy

435

206.6

kcal

Chất xơ hòa tan (FOS/ Inulin)/Dietary fiber (FOS/ Inulin)

500

237.5

mg

Photpho/Phosphorus

321

152.5

mg

Axit Pantothenic/Pantothenic Acid

1600

760

µg

Axit Folic/Folic Acid

50

23.75

µg
Average composition
In 100g of flour
In one cup
Unit
Chất xơ hòa tan FOS/Inulin

2500

1275

mg

Axit Pantothenic

3020

1540

μg
Average composition
In 100g of flour
In one cup
Unit
Average composition
In 100g of flour
In one cup
Unit
Types and specifications of packaging
Oggi gồm các chủng loại bao bì sau:
Sữa Bột
Hộp thiếc 400 g
Hộp thiếc 800 g
Hộp thiếc 900 g