Strong immunity - Smart baby
In young children, the immune system is incomplete, the amount of antibodies is low, so it is not enough to protect the baby from the factors that cause diseases in the environment. Immune support, antibody enhancement, giving babies an immune system and a healthy body are a solid foundation for the outstanding development of brain and emotional intelligence. ColosBaby IQ - scientific formula, natural light taste with ColosIgG 24h colostrum imported exclusively from the US, supplemented with high content of natural IgG antibodies, combining 2'FL HMO, DHA, Lactium, Vitamins and essential minerals, giving babies a healthy immune system, brain development, comprehensive development of height, weight, digestion and sleep.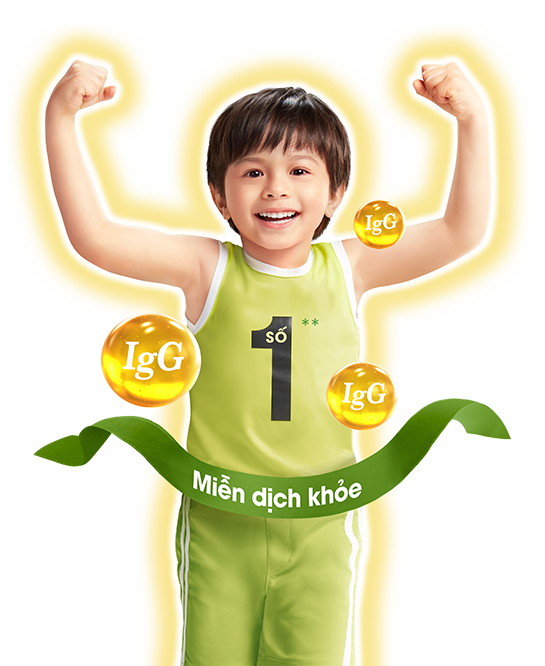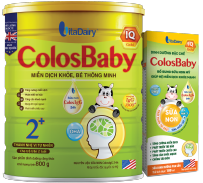 Benefits From ColosBaby IQ Gold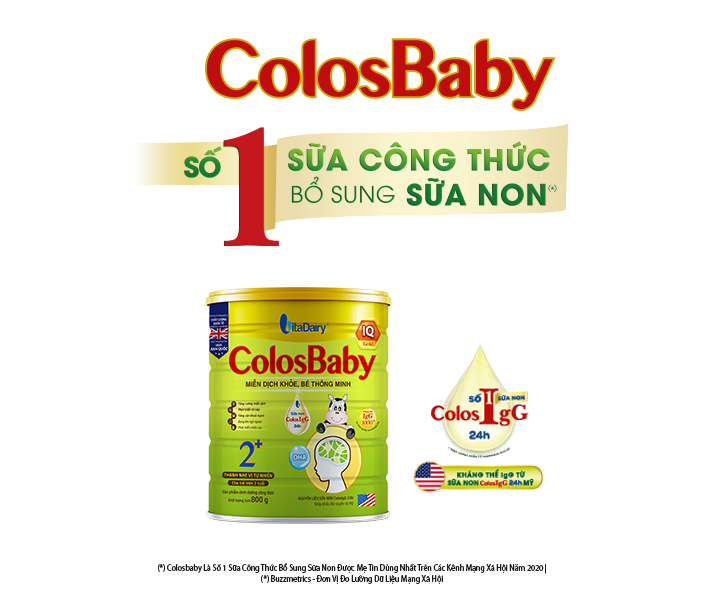 Effective immune booster
ColosBaby IQ Gold - supplemented with natural amount of IgG antibodies from ColosIgG 24h colostrum, with a high content of 1000+ mg, strengthens the immune system inside the body. The natural IgG antibodies from colostrum are capable of directly destroying bacteria and viruses that cause disease, combined with 2'-FL HMO (Human Milk Oligosaccharides), Vitamins A, C, E, Zinc, Selenium to help boost immunity. gastrointestinal fluid, increase the body's resistance against infections, for the baby to develop healthy and less sick.

Effective immune booster
Proper nutrition, adequate supply of Protein, Fat, Vitamins and Minerals necessary for structural development and function of the body to help children gain healthy weight.

Good sleep
Supplementing 2'-FL HMO, FOS / Inulin helps balance beneficial bacteria in the intestinal tract, aids digestion, absorption and prevents constipation. Lactium brings comfort, relaxation, natural sleep quality enhancement, helps children sleep well and sleep deeply for healthy development.

Brain development
Increased DHA from algae, ARA, Choline, Taurine are important nutrients for the perfection and development of the brain, vision, intelligence, awareness and learning ability.

Grow height
Calcium, Phosphorus, Vitamin D3: Essential nutrients for the development of bones and teeth for babies to develop body length, strong, strong bones and to achieve outstanding height.
Nutritional ingredients

ColosBaby IQ Gold 2+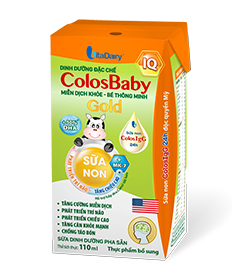 Average composition
In 100g of flour
In one cup
Unit
Sữa non ColosIgG 24h

17.3

mg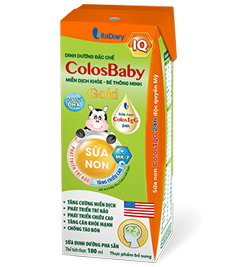 Average composition
In 100g of flour
In one cup
Unit
Sữa non ColosIgG 24h

28.3

mg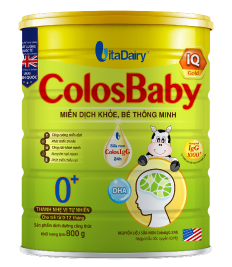 Average composition
In 100g of flour
In one cup
Unit
Năng lượng/Energy

496

68.4

kcal

Axit Linoleic (Omega 6)

1700

234.6

mg

Axit a-Linoleic (Omega 3)

320

44.16

mg

Sữa non Colosbaby IgG 24h/Colostrum Colosbaby IgG 24h

7000

966

mg

Chất xơ hòa tan (FOS/Inulin)

2.5

0.35

g

Clorid/Chloride

309

42.64

mg

Photpho/Phosphorus

327

45.13

mg

Magie/Magnesium

72.2

9.96

mg

Axit Folic/Folic Acid

67.9

9.37

µg

Axit Pantothenic/Pantothenic Acid

4020

554.8

µg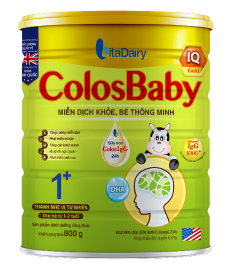 Average composition
In 100g of flour
In one cup
Unit
Năng lượng/Energy

458.3

194.8

kcal

Axit Linoleic (Omega 6)

1540

654.5

mg

Axit a-Linoleic (Omega 3)

290

123.3

mg

Sữa non Colosbaby IgG 24h/Colostrum Colosbaby IgG 24h

7000

2975

mg

Chất xơ hòa tan (FOS/Inulin)

3.3

1.4

g

Clorid/Chloride

305

129.6

mg

Photpho/Phosphorus

369

156.8

mg

Axit Folic/Folic Acid

93

39.53

µg

Axit Pantothenic/Pantothenic Acid

3700

1573

µg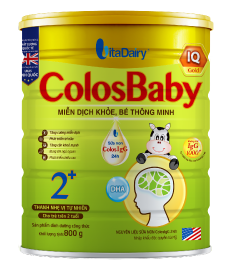 Average composition
In 100g of flour
In one cup
Unit
Năng lượng/Energy

458.8

195

kcal

Năng lượng/Energy

458.8

195

kcal

Axit Linoleic (Omega 6)

1550

658.8

mg

Axit a-Linoleic (Omega 3)

300

127.5

mg

Sữa non Colosbaby IgG 24h/Colostrum Colosbaby IgG 24h

7000

2975

mg

Chất xơ hòa tan (FOS/Inulin)

3.3

1.4

g

Clorid/Chloride

309

131.3

mg

Photpho/Phosphorus

372

158.1

mg

Axit Folic/Folic Acid

96.2

40.89

µg

Axit Pantothenic/Pantothenic Acid

3740

1590

µg
Types and specifications of packaging
ColosBaby comes in the following formats:
Milk Powder
400g tin
800g tin