Calosure - Balanced nutrition to improve cardiovascular health
High-energy CaloSure milk replenishes nutrients which are beneficial for your heart, brain and digestion. Calosure has a balanced, high-energy nutrient composition that adds energy and nutrients to your diet, or replaces the main meal when needed. Daily use of this product will help restore and enhance your health, support digestion, maintain a healthy heart and prevent osteoporosis.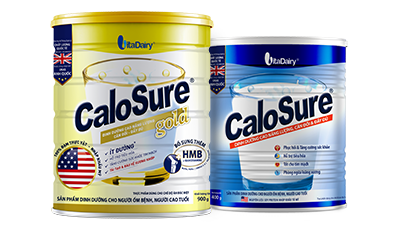 Benefits From the Calosure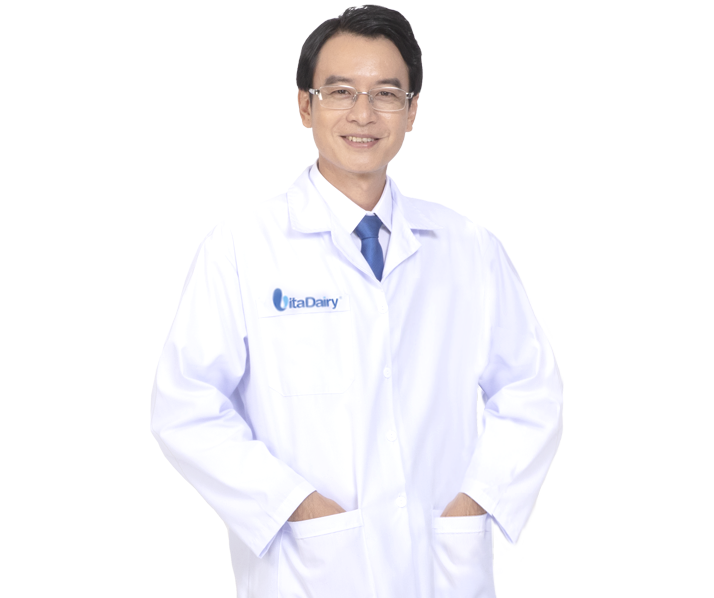 Support digestion
CaloSure Gold does not contain Lactose sugar and therefore does not cause diarrhoea and bloating in people who lack lactose. It supplements SYNENGY 1 - a soluble fiber mixture of FOS / INULIN that supports digestive function and prevents constipation

Promote cardiovascular health
CaloSure Gold with Soy Protein and a premium vegetable oil blend provides a perfect ratio of Omega 3, 6, MUFAs, and PUFAs, helps control blood fat, reduce blood cholesterol, maintain cardiovascular health and especially prevent hypertension and coronary artery disease in middle age and elderly people.

Recover and improve health
With balanced nutrition and high energy, CaloSure Gold replenishes energy, vitamins and minerals, helping to restore and enhance your health.

Prevent osteoporosis
Calcium, Phosphorus, Magnesium, and Vitamin D support strong bones, prevent and reduce osteoporosis.
Nutritional ingredients

CaloSure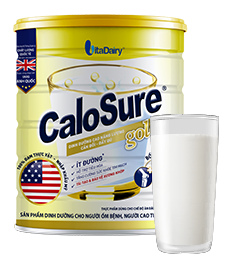 Average composition
In 100g of flour
In one cup
Unit
Chất xơ hòa tan (FOS/ Inulin)/ Dietary Fiber

3.5

1.75

g

Glucosamine Sulphate

200

100

mg

Axit Pantothenic/ Pantothenic Acid

2.62

1.31

mg

Axit Folic/ Folic Acid

200

100

µg

Photpho/ Phosphorus

180

90

mg

Magie/ Magnesium

78.4

39.2

mg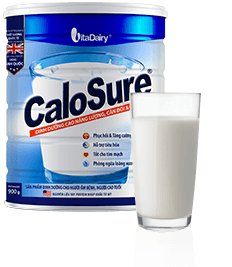 Average composition
In 100g of flour
In one cup
Unit
Năng lượng/ Energy

461.4

210

kcal

Chất xơ hòa tan (FOS)/ Dietary Fiber

3.5

1.59

g

Kali/ Potassium

410

186.6

mg

Photpho/ Phosphorus

388

176.5

mg

Magie/ Magnesium

92.7

42.18

mg

Mangan/ Manganese

17.1

7.78

µg

Axit Pantothenic/ Pantothenic Acid

620

282.1

µg

Axit Folic/ Folic Acid

117

53.24

µg
Types and specifications of packaging
CaloSure comes in the following formats:
Milk Powder
400g tin
900g tin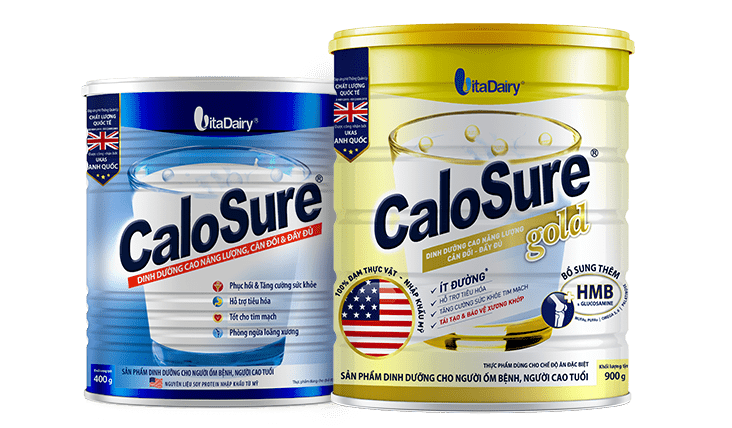 Product publication records