ColosBaby Gold for Mum
ColosBaby Gold for Mum – Complete and balanced nutrition with natural antibody supplement of ColosIgG 24h, boosts immune system for pregnant women, prevents sickness, and helps healthy fetus development.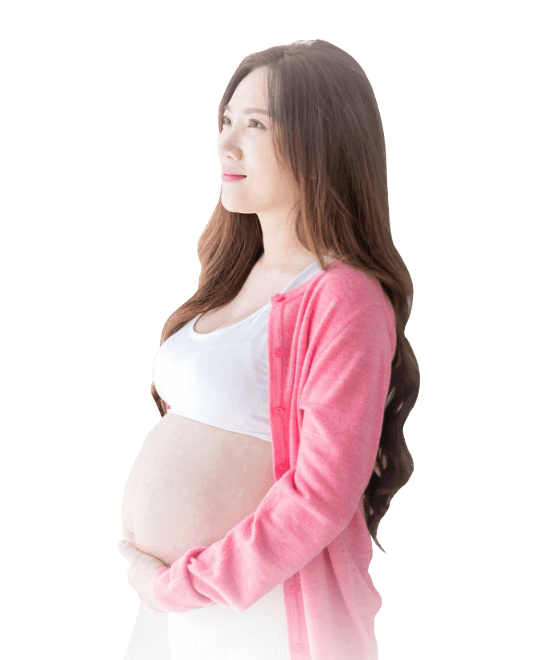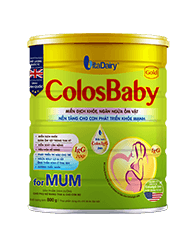 Benefits From ColosBaby Gold for Mum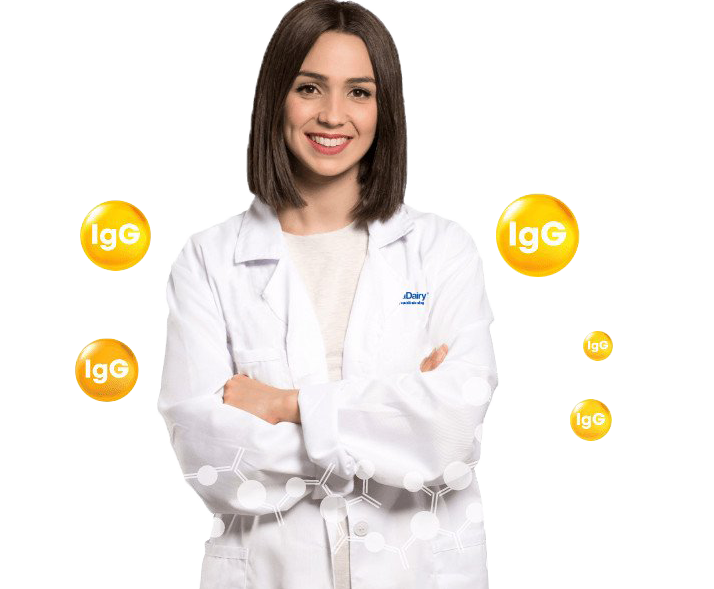 Boost fetal brain development
DHA, Choline, and Vitamin A support the formation of brain cells, eyesight and neurotransmitters of the fetus, and helps your baby develop her brain, vision and cognition at later stages.

Prevent the risk of neural tube defects in fetus
Folic acid, Vitamin B12, and Iron help prevent anemia - iron deficiency during pregnancy and reduces the risk of neural tube defects in the fetus.

Strong bones
Calcium, Phosphorus, Magnesium, and Vitamin D help maintain healthy bone structure for the mother and create a healthy skeletal system for baby.

Support immunity, prevent illnesses during pregnancy
The high amount of IgG antibody 700mg from colostrum, combined with antioxidants such as Vitamins A, C, E, Zinc, and Selenium, helps increase the ability to eliminate bacteria and viruses. This protects your body from illness-causing factors from the environment and ensures you have a healthy pregnancy.
Weight control
With a carefully calculated amount of calories, high protein and low fat, the product provides enough additional energy and protein that is needed in pregnancy, helps mothers gain weight properly and control weight during pregnancy and after birth.

Easy to digest
A combination of Whey Protein, Soy Protein and FOS / Inulin soluble protein helps balance intestinal microflora, stabilises digestion, reduces constipation during pregnancy and supports nutrient absorption.
Nutritional ingredients

ColosBaby for Mum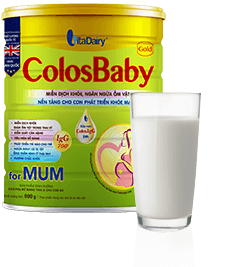 Average composition
In 100g of flour
In one cup
Unit
Năng lượng/Energy

428

162.6

kcal

Sữa non ColosIgG 24h/Colostrum ColosIgG 24h

4900

1862

mg

Chất xơ hòa tan/Dietary Fiber (FOS/Inulin)

4

1.52

g

Photpho/Phosphorus

316

120.1

mg

Axit Pantothenic /Pantothenic Acid

2880

1094

µg

Axit Folic/Folic Acid

600

228

µg
Variants and packaging specifications
ColosBaby Gold for Mum comes in the following formats:
Tin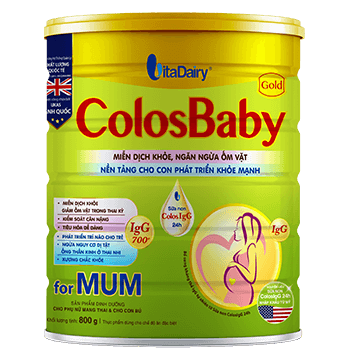 Product publication records